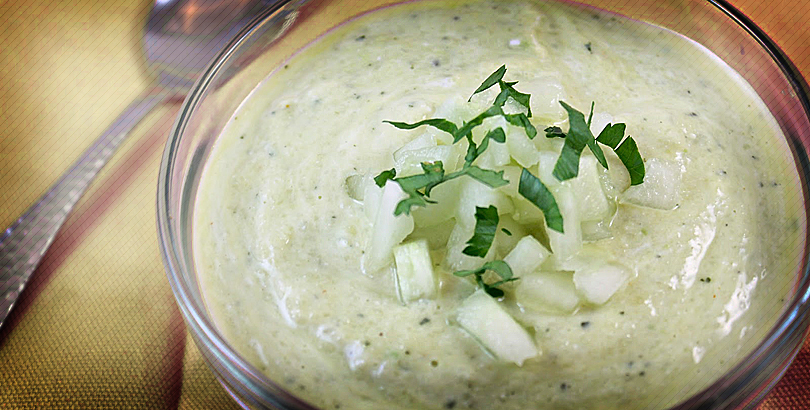 Yogurt is frequently used in Greek cookery, and it is usually made at home. Sometimes it is added at the end of cooking a dish, to prevent it form curdling, but in this cold soup the yogurt is one of the basic ingredient. It makes a cool and refreshing first course for a hot summer's day.
Ingredients
1 large cucumber, peeled
300 ml cream (light)
150 ml natural plain yogurt
2 garlic cloves, crushed
2 tbsp white wine vinegar
1 tbsp chopped fresh mint
salt and ground black pepper
sprigs of fresh mint, to garnish
Preparation
Grate the cucumber coarsely. This can be done in a food processor or blender, or you can do it by hand using the coarse side of a grater.
Stir it into the cream, yogurt, garlic, vinegar and mint. Season to taste, chill for at least 2 hours. Stir before serving and garnish with mint..
Nutritional Info
• Calories: 77 (322kJ)
• Total Fat: 1.3g
• Saturated Fat: 0.6g
• Cholesterol: 2mg
• Total Carbohydrate: 10.3g (Sugars: 10.1g)
• Fibre: 1.3g
• Protein: 6.9g
• Sodium: 106mg
• Calcium: 255mg