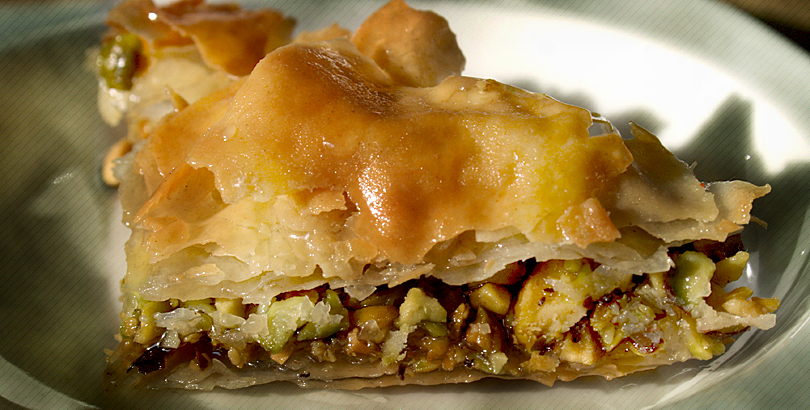 The filling for this pie includes nuts and spices and has a Middle Eastern flavour.
Ingredients
75g/½ cup bulgur wheat
50g/¼ cup butter
1 onion, chopped
450g minced (ground) chicken breast fillets
25g /¼ cup blanched almonds, chopped
5ml /1tsp ground cinnamon
2.5ml ground allspice
50ml/¼ cup Greek natural (plain) yogurt
15ml/1tbsp chopped fresh chives
30ml /2tbsp chopped fresh parsley
6 large sheets filo pastry
Salt and ground black pepper
Fresh chives, to garnish
Preparation
• Preheat the oven to 200C/400F/Gas. Put the bulgur wheat in bowl with 120ml/½ cup boiling water. Leave to soak for 5-10 minutes, or until the water is absorbed.
• Heat 15g/1tbsp of the butter in a non-stick pan, add the onion and minced chicken and cook gently, stirring occasionally, until pale golden. Stir in the apricots, almonds and bulgur wheat and cook for a further 2 minutes. Remove from the heat and stir in the cinnamon, allspice, yogurt, chives and parsley. Season to taste with salt and pepper.
• Melt the remaining butter. Unroll the filo pastry and cut into 25cm/10in rounds. Keep the pastry round covered with a clean, damp dish towel to prevent them from drying out.
• Line a 23cm/9in loose-based flan tin quiche pan) with three of the pastry round, lightly brushing each one with melted butter as you layer them. Spoon in the chicken mixture and cover with three more pastry rounds, lightly brushed with melted butter, as before.
• Crumple the remaining pastry round and place them on top of the pie, then brush over any remaining melted butter. Bake the pie in the oven for about 30minutes, or until the pastry is golden brown and crisp. Serve hot or cold, cut into wedges and garnished with chives.
Nutritional Info
• Calories: 263 (1104 kJ)
• Total Fat: 11.3g
• Saturated Fat: 5.2g
• Cholesterol: 70mg
• Total Carbohydrate: 19.9g (Sugars: 3.8g)
• Fibre: 1.6g
• Protein: 21.9g
• Sodium: 106mg
• Calcium: 69mg