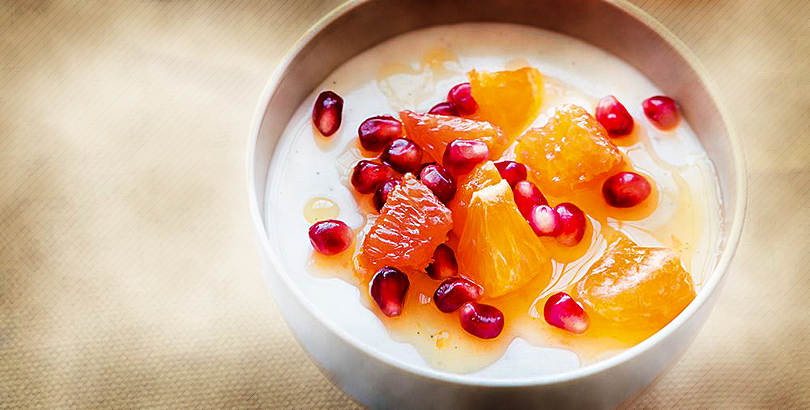 Ruby red or salmon pink, the jewel-like seeds of the pomegranate make any dessert look beautiful. Here they are stirred into luscious Greek yogurt to make a delicate sauce for a fresh-tasting grapefruit salad. This pretty dish is flecked with green thanks to the addition of finely chopped fresh mint, which complements the citrus flavors perfectly. Serve this refreshing combination for breakfast, as a light snack during the day, or as a dessert after a spicy main course.
Ingredients
300ml/1 ¼ cup natural (plain) yogurt
2-3 ripe pomegranates small bunch of fresh mint, finely chopped
Clear honey or caster (superfine) sugar, to taste (optional)
For the grapefruit salad
2 red grapefruits
2 pink grapefruits
1 white grapefruits
15-30ml/1-2 tbsp orange flower water
Handful of pomegranate seeds & fresh mint leaves
Preparation
1. Put the yogurt in a bowl and beat well. Cut open the pomegranates and scoop out the seeds, removing and discarding all the bitter pith. Fold the pomegranate seeds and chopped mint into the yogurt. Sweeten with a little honey or sugar, if using, then chill until ready to serve.
2. Peel the red, pink and white grapefruits, cutting off and discarding all the pith. Cut between the membranes to remove the segments, holding the fruit over a bowl to catch the juices.
3. Discard the membranes and mix the fruit segments with the reserved juices. Sprinkle with the orange flower water and add a little honey or sugar, if using. Stir gently then decorate with a few pomegranate seeds.
4. Decorate the chilled yogurt with a sprinkling of pomegranate seeds and mint leaves, and serve with the grapefruit salad.
Nutritional Info
• Calories: 188 (784 kJ)
• Total Fat: 10.5g
• Saturated Fat: 5.2g
• Cholesterol: Nil
• Total Carbohydrate: 18g (Sugars: 18g)
• Fibre: 3.6g
• Protein: 8.8g
• Sodium: 82mg
• Calcium: 202mg