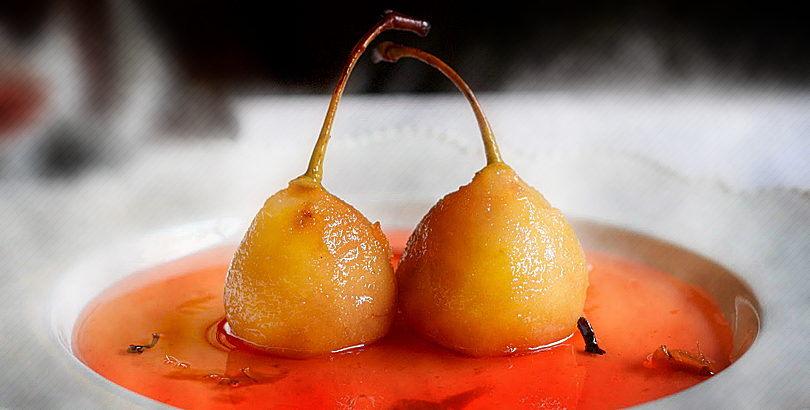 Mediterranean fruit has been poached in honey-sweetened syrup since ancient times. The Moroccans continue the tradition enjoyed by the Persians, Arabs, Moors and Ottomans in the past. They sometimes add a little orange rind or aniseed, or even a few or aniseed, or even a few sprigs of lavender, to give the poaching liquid a subtle flavouring. Delicate and pretty to look at, these scented pears would provide an exquisite finishing touch to any meal with a Middle Eastern or North African theme.
Ingredients
45ml/3 tbsp clear honey
Juice of 1 lemon
250ml/8fl oz/1 cup water
Pinch of saffron threads
1 cinnamon stick
2-3 dried lavender heads
4 firm pears
Preparation
1. Heat the honey with the lemon juice in a heavy pan that will hold the pears snugly. Stir the mixture over a gentle heat until the honey has dissolved.
2. Add the water, saffron threads, cinnamon stick and the flowers from 1-2 lavender head. Bring the mixture to the boil, then reduce the heat and simmer for 5 minutes.
3. Peel the pears, leaving the stalks attached. Add the pears to the syrup in the pan and simmer gently for 20 minutes, turning and basting at regular intervals, until they are tender.
4. Leave the pears to cool in the syrup and serve at room temperature decorated with a few lavender flower.
Variation
Use whole, peeled nectarines or peaches instead of pears.
• Omit the saffron, cinnamon and lavender and flavour the syrup with a split vanilla pod (bean).

Nutritional Info
• Calories: 66 (278kJ)
• Protein: 0.5 g
• Total Carbohydrate: 16.5g (Sugars: 16.5g)
• Total Fat: 0.2g
• Saturated Fat: Nil
• Cholesterol: Nil
• Fibre: 3.3g
• Sodium: 5mg
• Calcium: 17mg