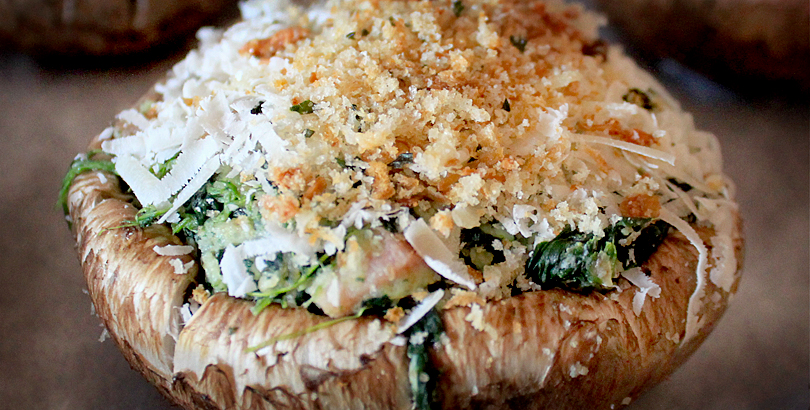 Use fresh ceps, if you can find them, to achieve the traditional flavour of this dish. Large, flat mushrooms work very well too.
Ingredients
12 large flat mushrooms
450g/1 lb young spinach leaves
4 large sun-dried tomatoes preserved in oil, cut into 5 mm/¼in dice
1 onion, finely chopped
2 egg yolks, beaten
40g/ 1½ oz / ¾ cup fresh breadcrumbs
5ml / 1tsp chopped fresh marjoram
45ml/3 tbsp olive oil or vegetable oil
1/5g/4oz feta cheese, crumbled
Salt and ground black pepper
Preparation
1. Wipe the mushrooms, peeling them only if necessary. Remove the stalks and chop them finely.
2. Blanch the spinach by dropping it into boiling water for 1-2 minutes, then plunge into cold water. Squeeze dry in kitchen paper, then chop.
3. Dry fry the onion until golden, then add the mushrooms stalks. Remove from the heat. Stir in the spinach, egg yolks, tomatoes, breadcrumbs and marjoram, and season to taste.
4. Place the mushrooms, under sides up, on a baking sheet and brush with a little extra virgin olive oil. Do not add too much olive oil as the mushrooms will produce moisture while they are cooking.
5. Place heaped tablespoons of the spinach mixture on to the mushroom caps. Sprinkle over cheese and cook the mushrooms under a preheated grill (broiler) for about 10 minutes, or until golden brown.
Cook's Tip
Stuffed mushrooms make a meal in themselves, but are also an excellent accompaniment for barbecued meat or chicken.

Nutritional Info
• Calories: 212 (882 kJ)
• Total Fat: 14.8g
• Saturated Fat: 4.8g
• Cholesterol: 87mg
• Total Carbohydrate: 8.1g (Sugars: 2.5g)
• Fibre: 3.7g
• Protein: 12g
• Sodium: 636mg
• Calcium: 226mg