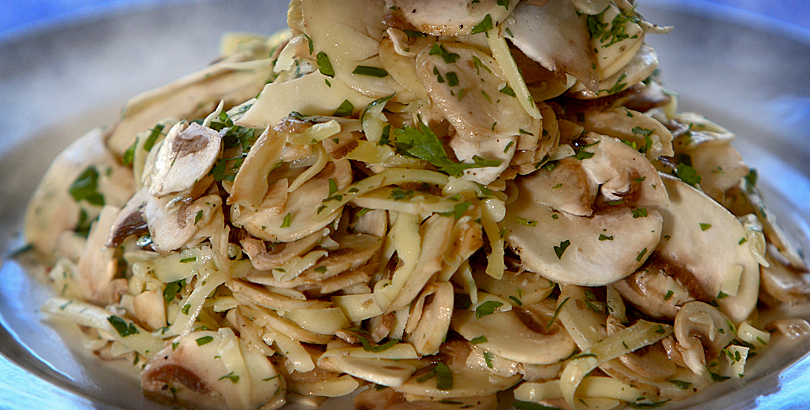 Edible mushrooms are the fleshy and edible fruit bodies of several species of macrofungi. These are consumed by humans as comestibles for their nutritional value and they are occasionally consumed for their supposed medicinal value. This refreshing salad is often served as part of a selection of vegetable salad, or crudités, or it could be eaten as a simple first course. Leaving it to stand before serving brings out the inherent sweetness of the mushrooms. It is usually very filling, savory and fun to do.
Ingredients
175g/6oz white mushrooms, trimmed
Grated rind and juice of ½ lemon about 30-45ml/2-3 tbsp Crème fraîche or sour cream
Salt and white paper
15ml/1 tbsp chopped fresh chives, to garnish
Preparation
1. Wipe the mushrooms and slice them thinly. Place in a bowl add the lemon rind and juice and the cream, adding a little more cream if needed. Stir gently to mix, then season with salt and paper.
2. Leave the salad to stand for at least 1 hour, stirring occasionally.
3. Sprinkle the salad with chopped chives before serving.
Variation
If you prefer, toss the mushrooms in a little vinaigrette-made by whisking 60ml/4 tbsp walnut oil or extra virgin olive oil into them lemon juice.

Nutritional Info
• Calories: 22 (93 kJ)
• Protein: 1.1g
• Total Carbohydrate: 0.6g (Sugars: 0.5g)
• Total Fat: 1.8g
• Saturated Fat: 1g
• Cholesterol: 5mg
• Fibre: 0.7g
• Sodium: 7mg
• Calcium: 17mg