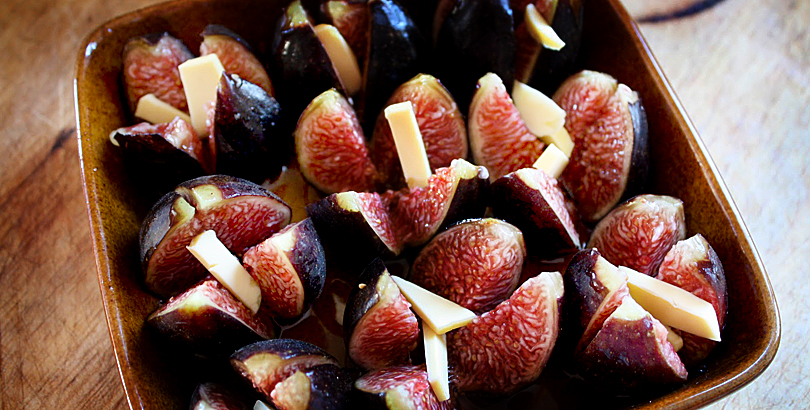 Baking fruit with honey is an ancient cooking method, perhaps devised when local fruit harvests were so abundant there was too much to eat fresh. This is a dish most often made with apricots or figs in rural homes, where it is sometimes served as a sweet snack for everyone to share, with bread to mop up the yogurt and honey. Spices and herbs, such as aniseed, cinnamon, rosemary and lavender, are often used for flavoring. Choose ripe interior, and an aromatic honey.
Ingredients
12 ripe figs
30ml/2 tbsp vanilla sugar
3-4 cinnamon stick
45-60ml/3-4 tbsp clear honey
225g/8oz/1 cup chilled thick and creamy natural (plain) yogurt, or clotted cream
Preparation
1. Preheat the oven to 200°C/400°F/Gas 6. Wash the figs and pat them dry. Using a sharp knife, cut a deep cross from the top of each fig to the bottom, keeping the skin at the bottom intact. Fan each fig out, so it looks like a flower, then place them upright in a baking dish, preferably an earthenware one.
2. Sprinkle the vanilla sugar over each fig, tuck in the cinnamon stick and drizzle with honey. Bake for 15-20 minutes, until the sugar is slightly caramelize but the honey and fig are still moist.
3. Eat the figs straight away. Spoon a dollop of yogurt or cream into the middle of each one and scoop them up with your finger, or serve them in bowls and let everyone help themselves to the yogurt or cream.

Cook's Tip
To make the vanilla sugar for this recipe, split a vanilla pod (bean) lengthways in half, scrape out the seeds and mix them with 30ml/2 tbsp caster (superfine) sugar.
Nutritional Info
• Calories: 198 (845kJ)
• Protein: 2.3g
• Total Carbohydrate: 48.2g (Sugars: 48.2g)
• Total Fat: 1g
• Saturated Fat: Nil
• Cholesterol: Nil
• Fibre: 4.5g
• Sodium: 39mg
• Calcium: 155mg