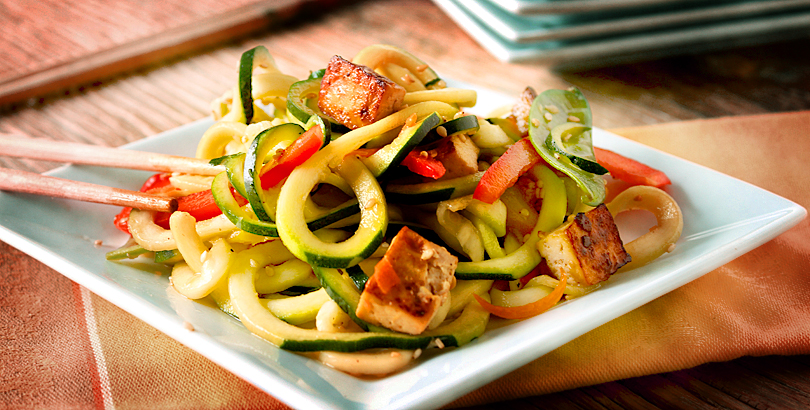 This dish is great hot or cold, and its flavor improves if it is kept for a day or two, covered, in the refrigerator. It makes the perfect accompaniment to a nut or meat roast.
Ingredients
30ml/2 tbsp olive oil
2 garlic cloves, finely chopped
4 large courgettes (zucchini), thinly sliced on the diagonal
255g/9oz firm tofu, drained and cubed
1 lemon
Sea salt and ground black pepper
For the tomato sauce
10ml/2 tsp balsamic vinegar
5ml/1 tsp sugar
300ml/ ½ pint/ 1¼ cups passata (bottled strained tomatoes)
Small bunch of fresh mint or parsley, chopped
Preparation
1. First, make the tomato sauce, place all the ingredients in a small pan and heat thorough gently, stirring occasionally.
2. Meanwhile, heat the olive oil in a large non-stick wok or frying pan until very hot, then add the garlic and stir-fry for 30 seconds, until golden. Add the courgettes and stir-fry over a high heat for about 5-6 minutes, or until golden around the edges. Remove from the pan.
3. Add the tofu to the pan and brown on one side for a few minutes. Turn gently, then brown again. Grate the rind from half the lemon and reserve for the garnish. Squeeze the lemon juice over the tofu.
4. Season to taste with sea salt and pepper, the leave to sizzle until all the lemon juice has evaporated. Gently stir the courgettes into the tofu until well combined, then remove the wok or pan from the heat.
5. Transfer the courgettes and tofu to a warm serving dish and pour tomato sauce over the top. Sprinkle with the grated lemon rind, taste and season with more salt and pepper, if necessary and serve immediately.
Nutritional Info
• Calories: 141 (585kJ)
• Protein: 8.8g
• Total Carbohydrate: 6.8g (Sugars: 6.3g)
• Total Fat: 8.9g
• Saturated Fat: 1.3g
• Cholesterol: Nil
• Fibre: 2.4g
• Sodium: 1819mg
• Calcium: 389mg